---
Featured Refurbished PCs
HP Onsite Warranty until 2022

AMD Ryzen 5 2400 CPU
8GB DDR4 RAM
256GB NVMe SSD
HP Onsite Warranty until October 2022
TPM 2.0, Windows 11 Ready

Windows 11 Ready

6th Generation i3 CPU
8GB DDR4 RAM
Tower Unit, great for upgrading
Windows 11 Ready

Windows 11 Ready

Intel core i5-6500 processor
500GB SATA HDD hard drive
See upgrades SSD
8 GB DDR4 RAM
Professionally refurbished PCs
---
Computer and Device Repairs
We fix a range of devices, including windows computers and laptops, iphones and iPads at our device repair centre in Stockport.

Mobile Device Repairs
If you need an iPhone or iPad screen replacement, a new battery for your device or you can't charge your Device we can repair your broken iPhone or iPad at our device repair centre in Stockport. We use premium quality components & our engineers have a wealth of experience in repairing all sorts of electronic devices.
Don't know your device model? Call us on 0161 476 2220 and we'll help you out.
Computer & Laptop Repairs
Established in 2007 we have become Stockport and South Manchester's most comprehensive Computer repair service for PCs, laptops and Macs. We offer our IT Services to Schools and Government sectors, Small to medium businesses and the general public. Free no-obligation quotes on all work, Quick turnaround by experienced computer engineers. Get up to speed with AC Computers.
Virus & Malware removal
Hardware diagnostic, replacement and upgrades
Software reinstalls
Component repair and replacement
Data recovery & Migration
Windows software problems & Driver issues.
PC health checks
Password reset or removal
Blue screen or freezing repair
Onsite PC repair
View all computer repair services
Contact us or call us on 0161 476 2220 to book your computer repair.
About AC Computer Warehouse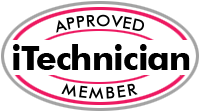 Established in 2007, AC Computer Warehouse has become the favourite computer repair centre for Stockport and Manchester. We offer a comprehensive PC, laptop, iPad and iPhone repair service to home users, businesses, schools and government. We also offer a large selection of new and refurbished laptops, PCs, monitors and tablets for sale in our Stockport shop, as well as online for UK delivery.
Based just a stone's throw off the M60, our Stockport repair centre is easy to access, with free parking on site and regular train and bus services. Our friendly and experienced staff are happy to help with any queries you might have regarding our products or services, so just drop us an email on sales@accomp.co.uk, give us a call on 0161 476 2220, or pop in to the shop to see us.
Read more about us