Computer and Device Repairs
We fix a range of devices, including windows computers and laptops, iphones and iPads at our device repair centre in Stockport.

Mobile Device Repairs
If you need an iPhone screen replacement, a new battery for your iPhone or you can't charge your iPhone we can fix your broken iPhone 8 at our device repair centre in Stockport.
Don't know your device model? Call us on 0161 476 2220 and we'll help you out.
Computer & Laptop Repairs
Established in 2007 we have become Stockport and South Manchester's most comprehensive Computer repair service for PCs, laptops and Macs. We offer our IT Services to Schools and Government sectors, Small to medium business and the general public. Free no obligation quotes on all work, Quick turnaround by time served computer engineers. Get up to speed with AC Computers.
Virus & Malware removal
Hardware diagnostic, replacement and upgrades
Software reinstalls
Component repair and replacement
Data recovery & Migration
Windows software problems & Driver issues.
PC health checks
Password reset or removal
Blue screen or freezing repair
Onsite PC repair
View all computer repair services
Contact us or call us on 0161 476 2220 to book your computer repair.
About AC Computer Warehouse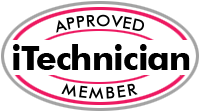 Proudly established in 2007 AC Computers quickly built its reputation for being the best place to have your Laptop, PC, iPad or iPhone repaired in Stockport. We also offer a large selection of new & refurbished laptop PCs, Monitors, and tablets.
Based a stone throw away from the M60, train & the bus station and with ample free parking AC Computers is easy to navigate to and from. Our knowledgeable staff are more than happy to help you with quires you may have regarding our products or services. Please email sales@accomp.co.uk, call 0161 476 2220 or visit us instore during our opening hours.
Read more about us